Where to find the best delis, restaurants and hidden cheese-related gems around Totnes, Devon.
"Running on three hours of sleep and down three glasses of Chateauneuf Du Pape, an idea worm burrowed its way from my inner cerebrum and whispered in my ear 'summer of 2014.' Oh, how I longed for the lazy, hazy days travelling the UK in search of the finest fromage afoot. Then it occurred to me: with the great renaissance of the British 'staycation', one must share one's knowledge of great cheese visits! Hastily I grabbed my quill and set to work on the foundation that would become… Cheesecations!" Jeremy says after I pose the question, "Where did the idea for cheesecations come from?" Though he was pretty sleep-deprived when I asked him… so take this as you will!
So from that light bulb moment that Jeremy had, to now, where I am writing up our first Cheesecations blog, we have got some fab ideas of all the different locations we can visit and report back to you lovely folk, with all the insight you need to find the "finest fromage afoot", as Jeremy so poetically puts it.
To kick it off, we are very pleased to start in the whimsical town of Totnes, which I am very lucky to call my hometown, located in south Devon. Totnes is an enchanting little market town that combines a passion for alternative therapies, breathtakingly beautiful countryside and fascinating history. Located in south Devon on the banks of the River Dart, this unique and charming town has an international reputation for its lively and diverse community and relaxed atmosphere. Totnes has a real sense of community and it will entice you with its individuality and charm, but where can you find the cheese?
Sharpham
Just on the outskirts of Totnes, nestled in the rich green countryside is Sharpham Estate, home to Sharpham Wine and Cheese. We have stocked Sharpham cheese at Wildmoor Fine Food and Drink for many years, and we are now excited to sell it on Cheese Cuisine! Sharpham was established in 1980. The 18th century coachyard of Sharpham House was home to the creamery where their range of handmade cheese was produced. At Sharpham, they use creamy milk from their own Jersey herd and also milk from their sheep and goats which are raised on local family farms around the area. They are made up of a small, very knowledgeable and skilled team who carefully craft, cut, wash, turn and rub all their cheeses, then pack and send to expert cheesemongers and chefs around the country and beyond.
https://youtu.be/POkPe39kp24
Being brought up in the countryside, it really does feel like home to me. I love being immersed in all sorts of variations of green, wildlife and at this time of the year the refreshing air (albeit quite chilly at the same time!) If you have the same fond feeling about the countryside, then you must go and visit the Sharpham Estate. The visits are all based around their famous wines and vineyard and there are lots of options to choose from. You could do a guided tasting, Vine to Wine – explore the vineyard then taste their award-winning wine and cheeses, a self-guided tasting, or explore their whole vineyard with a dedicated vineyard walk. So much to choose from, so why don't you book yourself and a group of friends or family onto one (Christmas present idea maybe??)
COUNTRY CHEESES
As we move into more central Totnes, down a little lane called Ticklemore Street just off the hustle and bustle of the high street is the specialist cheese shop Country Cheeses. The business was established 20 years ago with a table in Tavistock's Pannier Market, six kinds of cheese, and loads of enthusiasm for eating 'real' cheese. You can now find Country Cheeses in three locations – Tavistock, Topsham and Totnes. They specialise in selling close to 100 different kinds of cheese, all British and mostly from the Westcountry. Like us, they have a passion for artisan cheese and encouraging others to come away from the bog-standard supermarket cheeses and experience the stunning individuality of artisan cheese. We support cheese shops like Country Cheese as, like us, they are a part of the passion for providing variety and accessibility of exceptional 'real' cheeses, championing one of the nation's most traditional, varied and nutritious foods in our diets.
BEN'S WINE AND TAPAS BAR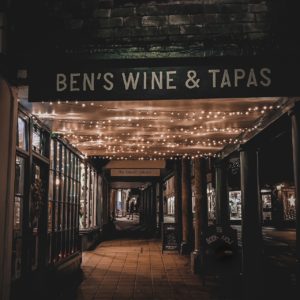 I also want to chat about the wine culture of Totnes, as we love wine, you love wine, we all love wine! Sharpham takes the lead on wine and cheese in Totnes, but there is another little gem. Wander up the high street and you will find Ben's Wine and Tapas Bar, specialising in great tasting, affordable wine from small producers all around the world at fair prices that represent real value. Ben's Wine and Tapas, located at the top of the high street is hard to miss with its deep green exterior and warm, cosy vibe inside. Most of their wine is from grower/winemakers, so it's a true farm product. Walking into the bar, on your left is a wall stacked with all sorts of wines to choose from; everyone is very welcoming and the tapas is divine. So if you fancy a wine and tapas night then look no further than Ben's Wine and Tapas.
Another handful of must-go places to eat in Totnes are the Bull Inn at the top of town (which has recently undergone a fantastic refurbishment, and they also have stunning rooms to stay in), the Waterside Bistro down by the river, and the famous Seven Stars Hotel where you can also stay.
So there you have it: our best wine, cheese and restaurant recommendations for Totnes. We suggest booking in for a vineyard tour and wine tasting at Sharpham, then pop to Country Cheese to pick up some delightful artisan cheeses, have a stroll up the high street and book a table at Ben's Wine and Tapas Bar. Doesn't that sound like such a wonderful day! If you get a little too tipsy you could also book a room at the Seven Stars Hotel. Think I might have to treat myself to this…
~  Katie