In celebration of International Women's Day, we have chatted with some of the most influential and inspiring women in cheese.
Julianna's cheese journey started in her native Hungary, where she studied agricultural engineering, which led her on a path to working for some of the best cheese minds in the world and finally starting her own business, converting an old cattle byre on an Estate near Corsham in Wiltshire into a dairy specializing in Jersey milk and now producing three different cheeses, as well as curd and yoghurt.
During Julianna's agricultural engineering studies in Hungary, she won an internship in goats cheese making and goat husbandry at Capriole Inc in Indiana, USA. It was there that she would discover her love of cheese making. Her journey took her from Indiana to Neal's Yard Dairy, where she met Mary Holbrook (the goats cheese guru) and worked for her making goats cheeses for four years.  Then Julianna moved on to White Lake Cheese, and then Wotton Organic Dairy, where she began to work with Jersey milk. In 2010 Julianna's journey led her to meet Sir James Fuller, owner of the Neston Estate, where for generations the farm had bred Jersey cows and went fully organic in 2003. By 2011 Julianna was making raw milk Baronet at The Old Cheese Room, converted from an old cattle byre at the heart of the farm. Her husband joined her in 2014 and through the birth of their two children, they have still managed to develop new cheeses and grow the business.
INTERVIEW WITH JULIANNA
How and why did you get into cheese making?
I applied for an internship and I choose a farm in America with goat husbandry and cheese making.
Kind of love at first sight since I have not stopped making cheese since. For a period of time, I was a cheesemonger at Neal's Yard Dairy in London, but after 3 weeks I received a job offer from Mary Holbrook. I took it straight away and at the end of the year finished my employment with Neal's Yard Dairy then headed to Mary's farm.
Who inspires you?
Judy Schad of Capriole goat cheeses in Indiana inspired me a great deal. She was my mentor in cooking, cheese making, selling cheese, goat keeping and milking, as well as in the lifestyle, love, passion and fun of cheese and cheesemaking.
What are some of your favourite cheeses?
Epoisses, Fleur de Marquies, St Marcellin, Beaufort, Sidonun hill, Doddington, and I love a creamy mould ripened chévre. And of course the cheese we make, with their seasonal changes.
Do you have a favourite recipe for one of the cheeses you make?
We love cooking with our cheeses, every one of them. The one I enjoy the most is wintery baked mini Baronet with red peppercorn – delicious dipped in with homemade sourdough baguette slices.
I also enjoy wild garlic and Jersey curd mixed in with freshly homemade linguine, as well as Jersey curd for pancake filling – light and sweet and it's yum. I also love mushroom, parsley and marjoram toast with Lypiatt grilled on top. And there is tartiflette of course, or peanut butter and Baronet toastie for something really different.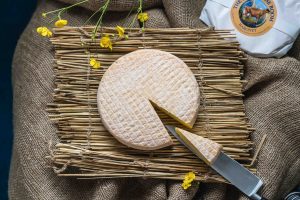 Baronet, based on a Reblochon recipe, gains its signature rich butter notes from the 100% Jersey milk used for the cheese. The cheese is aged and the rind regularly washed for around four weeks, giving Baronet its classic colouring and slightly pungent aroma.  As a farmhouse cheese, its taste and structure changes throughout the year, depending on what the cows are grazing on. Indulgent on a cheeseboard and perfect for a British tartiflette, Baronet is featured on our International Women's Day Cheeseboard and will be added to our cheese counter.