In Celebration of International Women's Day, we have chatted with some of the most influential and inspiring women in cheese.
With all of Nettlebed Creamery's awards and accolades for their outstanding organic cheese, one would think that Rose came from a long line of cheesemakers, but this is not the case. After working both as an actor (something in Rose's blood – her grandmother was Celia Johnson of Brief Encounter fame) and with ex-offenders, Rose started her first food company, Orkney Rose.
Rose spent much of her youth staying at her grandfather's house on Orkney, and a passion for the produce of the island led her to develop Orkney Rose, which sold and promoted Orcadian foods from her stall at the London Borough Market. Rose quickly caught the attention of the London restaurant scene and she started supplying the likes of Roast and Chez Bruce.
Rose's grandfather started his dairy on the outskirts of the charming village of Nettlebed, twenty minutes north of Reading, in 1950. In 2001 the dairy moved all its farming practices over to organic. In 2015, Rose returned to the family farm and, dismayed by the fact that their glorious milk was sold off and blended with that of many other farms, set about developing Nettlebed Creamery.
Six years later, and the dairy now has three cheeses, each with its own distinct personality, alongside milk, kefir and butter. Rose's next project, The Toastie Shed, uses her cheeses to make the ultimate toasties for people visiting the farm.
INTERVIEW WITH ROSE GRIMOND
How and why did you get into cheese making?
It was a love of food first, then a move to the family farm, then the idea of making cheese from our milk. Oddly, it's not a profession most career counsellors suggest.
Who inspires you?
People who do interesting things really well – with kindness. They don't have to be famous and most often they're not. My grandparents are two good examples.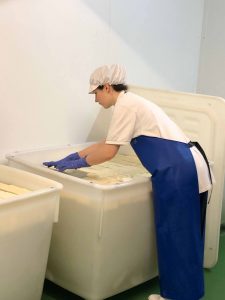 What are some of your favourite cheeses?
Depends on the time of year. Now – late February – it's hard to beat a simple plate of Winslade (a fabulous cheese) or one of the great cheddars – Hafod, Westcombe, Montgomery – with crusty bread and with a bottle of good wine in front of the fire. Come the summer, a crumbled blue such as Stichelton, with chicory and a cold glass of white or Sinodun Hill with mesclun and a thyme dressing.
Do you have a favourite recipe for one of the cheeses you make?
We are devoted to mixing thinly cut Highmoor with broken or even grated Witheridge to create the backbone of the greatest toastie of all time. But I would say this as next week we hope to open The Toastie Shed from which we will be serving (we hope) many of these sandwiches.
"There is a saying in farming that you 'get big, get different or get out.' Farming is no longer an industry where you can plough on as you always have. We decided to get different."
Bix From Nettlebed is a triple creamed cheese akin to Delice De Cremier. It's indulgent, complex and simply delicious. But don't just take my word for it – Bix won Best Soft Cheese at the British Cheese Awards. Witheridge is a first for British cheese, aged on hay which gives it its grassy note. The cheese has St Nectaire qualities to it and is a delight on a cheeseboard, and really shines when used in cooking. Lastly, Highmore is their rind washed cheese with rich brothy notes and bacon fat umami undertones that are sure to please.
Rose's determination and passion is obvious and her natural skills as both a producer and businesswoman are clear. To take on the challenge of bringing a new cheese to market is a triumph on its own, but to develop three cheeses in a matter of a few years is truly an inspiration. Rose was honoured with the Sue Ryder Women of the Year Achievement Award for Best Business in 2020 and, although this is impressive, I think her work with HMP Huntercombe and providing employment for ex-offenders is the true testament of her character.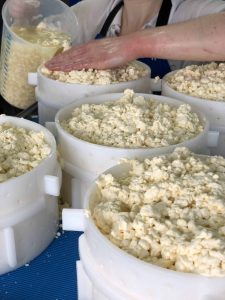 You can purchase Bix here
You can purchase Witheridge here