"A big part of our business right from the start was to find a charity that promotes the countryside and provides inner city kids with breaks from where they live to give them a beneficial and educational insight into the countryside and farming, so we are over the moon to work with Farms for City Children!" ~ Jeremy 
We would like to introduce the charity that we are partnering up with at Cheese Cuisine. We are very proud to support Farms for City Children, a charity founded by Michael Morpurgo and his wife at Nethercott House in Devon in 1976. The charity offers urban children from all over the country a unique opportunity to live and work together for a week at a time on a real farm in the heart of the countryside. We had the pleasure of interviewing Lisa who is the Regional Corporate Fundraising Manager at Farms for City Children…

Hey Lisa! Thanks so much for doing this interview. It is great to get insider information from you about all the great things you are doing. Could you tell us a little bit about Farms for City Children?
Of course, thank you for asking me!
We are a national charity that gives children the chance to become an integral part of one of our three working farms for a whole week. Our farms are in Devon, Pembrokeshire and Gloucestershire and children visit us from all over. During their stay the children and their teachers live and work at the farm, learning about how to care for livestock, how to grow, harvest, prepare and cook fruit and vegetables and how to enjoy spending time in nature. Children learn about teamwork, develop confidence, and overcome challenges through completing tasks they will never have faced before.
We work specifically with schools based in some of the most densely populated cities and marginalised communities in the UK and welcome around 3,000 children a year – over 100,000 since we were set up by Sir Michael and Lady Clare Morpurgo in 1976.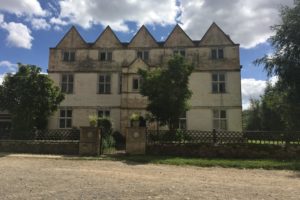 What inspired Sir Michael and Lady Morpurgo to start Farms For City Children?
Lady Clare came to Devon as a child, every year for five or six years and just came to love the farmers, the countryside and the feeling of being there. She met Michael when they were both teachers and they thought it would be great if they could offer children the same experience that Lady Clare had as a child, and what a difference it would make for city children, who may have never collected a freshly laid egg, or even seen the sea before.
So they bought a farm, our first farm, Nethercott House in Devon, right in the spot Lady Clare fell in love with as a child. The first children came from Birmingham, then from London, and it's just kept going and going. 
How long have you worked for the charity, and what has the experience been like to work with Farms for City Children?
It's been incredible. I am a newbie, starting in February this year. We had huge plans to welcome more children than ever in 2020, and with that, raise more than we ever have too. Very sadly residential trips were halted due to the pandemic. We have all worked so hard to ensure the charity survives, and, thanks to our amazing supporters, we are delighted to now be welcoming children for Farm Activity Days which we will continue until we can start residential trips again.
So, it's been a very difficult but amazing experience so far. I work with an incredibly dedicated and experienced team – especially the staff at the farms, they're absolutely amazing. And the farms themselves are incredible places. One of them is moated, one has a Victorian walled kitchen garden, our Welsh farm is right on the beach… I can't imagine how powerful it is to leave the motorway, bounce down those endless country lanes in a big coach, and pull up to the farmhouse to start your adventure!
The first time I saw children at the farm was very emotional. Seeing children ask hundreds of questions about how an egg is made, trying all the vegetables in the garden, running around in the fresh air, just loving the freedom and space, its brilliant. Most important is knowing the impact our residential trips have on city children, and that they are going back home and to school more confident and hopeful for the future. It's an honour to be part of it.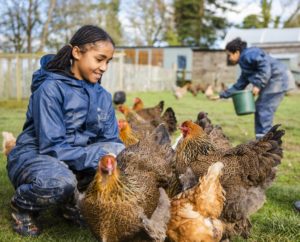 What day-to-day activities do you do with the children when they come and visit the farms, and what valuable experiences do the children gain from their visits?
The week has a reassuring, structured routine with activities in line with the farming calendar. There is no picking and choosing, the children soon find out that the animals come first, whatever the weather.
The children could be bottle feeding lambs, weighing piglets, sowing seeds, harvesting fruit and vegetables, collecting eggs, mucking out stables, grooming donkeys or learning about rearing pigs, alongside lots of other tasks.
Their three meals a day are freshly prepared with farm produce and enjoyed around long tables. Children share meals with farm staff and their teachers and reflect on all their discoveries from the week. This can be a novelty for some children who don't experience sit down family meals at home.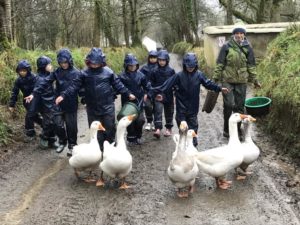 There is also plenty of time to relax and play. There are no screens, no iPads, no WiFi at any of our farms so children take long countryside walks, play in the fields and tell stories under the stars. Sir Michael has filled reading rooms with props from the stage, hundreds of books, it's a lot of fun.
A week on one of our farms can literally be life changing. Our mini farmers could be seeing brand new things for the first time and mastering activities they never imagined – helping them to believe in themselves and what they can achieve. Being at the farm ignites ambition and helps children to dream bigger. We believe every child, no matter where they live, or what challenges they face, should have the chance to immerse themselves in our incredible countryside, and enjoy all the benefits that come with that.
What type of cheese is made on the farm visit?
A huge part of the work we do is promoting where good food comes from, so we show children how to grow, harvest, prepare and cook their own food, and this includes cheese! During their stay they will learn all about keeping goats and cows and help with the milking – whether sat on a stool themselves or watching the amazing milking robots. We have a fantastic food preparation area at each farm, with a fridge of cheese samples so children can taste the variety of cheese available. And then they get a chance to make their own, which they absolutely love to do! We make a soft cheese, like a ricotta. Many children say this is the highlight of their week!
Now for some cheese based questions…
What is your favourite cheese?
I think I would have to say gouda.
What is your favourite cheese dish?
My brother-in-law's cheese fondue. He's an absolute master.
Oh so "cheesy"…
What is your favourite cheesy movie or tv show?
Oh Armageddon. That's got to count as cheese right? It's a cheese-fest!
Where is your favourite place to eat cheese? (certain restaurant, friend's house who always has the most interesting cheese boards)
There's a fondue restaurant in Soho, London called St Moritz which is wonderful. And it's a little out of the way but the cheese room and café at Connage Highland Dairy & Cheese Pantry in the Scottish Highlands is also a very special place.